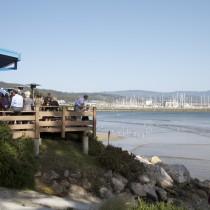 This workshop is meant to bring together two groups of researchers: those interested in quantifying dynamic cellular organization and function; and those interested in methods of data analysis and modeling that would be appropriate for cell dynamics. Together, we will present current work, highlight existing challenges, and brainstorm ways to get more information from our measurements of cell dynamics. A key goal of this workshop is to compare different approaches, distill best practices, and try to come up with ideas for how to improve future approaches.
Weather Webcam for Princeton by the sea in Half Moon Bay  http://www.webcamgalore.com/EN/webcam/USA/Half-Moon-Bay-California/6049....
Video of the Workshop Site and Area  https://www.youtube.com/watch?v=t6nsYSgCMNQ
In lieu of the traditional poster session we will be down on the beach (weather permitting) creating our "posters in the sand".  Needless to say, this should be fun, creative and interactive!  Just in case weather does not permit, we ask that each registrant prepare one slide to present for a "lightening round" session.